Meet Chef Zieg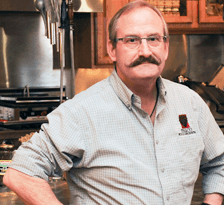 Chef Tim Ziegler ("Chef Zieg") is The Chef Behind the Chefs. For more than 25 years, Chef Zieg has immersed himself in the world of spices and, as a result, is now the go-to expert among restaurant chefs seeking proprietary flavor blends as well as culinary organizations seeking memorable "eatertainment." The American Kitchen SPICES Print Series, which he co-created, is often the subject of his talks.
Chef Zieg grew up in the food business while working in his parents' store across from the University of Denver. At age 12 he was cutting chickens, breaking down beef quarters, and helping make sandwiches in the deli.
While stationed on the USS Blue Ridge LCC-19, the sailors griped about the chow, and so Tim offered to help. After working in the galley/bakery at 0300 (3 A.M.) cutting donuts and working bread dough with a Petty Officer 3rd Class (whom he later wrote up for a Navy Achievement Medal), he got the job.
In 1981, Chef Zieg graduated from Oregon State University with a B.A. in Southeast Asian History, and in 1987 he graduated from Western Culinary Institute with a Professional Culinary Arts Degree. After working as a chef for a Denver seafood restaurant, Chef Zieg started the Colorado Spice Company to create spice blends for professional chefs and retailers.
Today, Chef Zieg is the Spice Master & Blender for Italco Food Products' Gran Cucina™ Spice Division. Here, Chef Zieg oversees product development and over $1M in annual spice sales.
He is also a member of the International Food Technologists and the Research Chef's Association and spends a great deal of time volunteering for various non-profit organizations in the Denver area. He lives in Broomfield, Colorado, with his wife, Margaret, and enjoys spending his free time with his four children and one grandchild.
Sign up

for the Newsletter
Milestones