Hire Chef Zieg to Speak at Your Event!
Chef Zieg has led numerous lectures, workshops, and demonstrations for culinary students, chefs, industry professionals and the home cook. One of his signature speaking topics covers the original SPICES print, which is a true depiction of how this Spice Master thinks about the world of spice. However, your presentation will be tailored to meet the theme of your event and the interests of your audience.
From little known facts that even the most seasoned chef doesn't know to intensive cooking strategies for creating incredible flavor-infused dishes, Chef Zieg knows how to captivate and entertain an audience with a mix of humor, specific spice knowledge, and tactical take-aways.
In recent years, Chef Zieg spoke at the Annual Conference & Culinology Expo and The Spicy Food Show  and led several spice demonstrations at Mondo Market in Denver, Colorado among other events. He is available to travel throughout the country.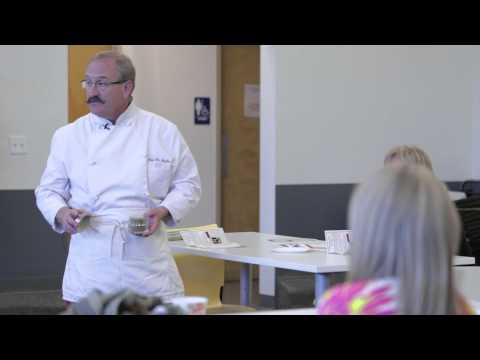 Why Hire Chef Zieg as One of Your Culinary Guest Speakers?
More than 25 years in the spice industry.
Successfully launched his own spice distribution business and built a $1M spice division at Italco Food Products, Inc.
Has taught or spoken at dozens of classes and events giving him the speaking experience you need for your top-notch event.
Extensive travel through regions of the world where most spices originate — including time spent overseas with the United States Marine Corp — giving him a global view.
Graduate of Western Culinary Institute.
Consulted professional restaurant chefs throughout his career to create proprietary spice blends that have resulted in award-winning dishes over and over again. He is the Chef Behind the Chefs!
The Chef Zieg Talk Includes…
A walk through the SPICES print, which provides a new and categorical way of thinking about spices and flavors.
Understand what it means to be a Spice Master.
Spices cost what they cost for a reason.
Learn how to detect the highest-quality spices.
The care and feeding of spices and herbs.
Avoid top mistakes made by even some of the most revered restaurant chefs.
Touch, smell, and taste a variety of the world's most sought after herbs, spices and blends.
To book Chef Zieg to be one of your culinary speakers or to inquire about speaking fees, please complete the form below.
Sign up

for the Newsletter