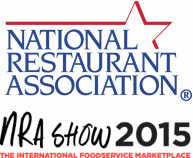 Join me in Chicago at the NRA Show!

I'm honored to be a speaker at The National Restaurant Association (NRA) Show on May 17, 2015 in Chicago. I'll be in the Foodamental Studio Booth from 12:30 PM until 1:15PM that day.
During my demonstration, Spices From A To Z ("Z" stands for "Zieg", of course), you will have the opportunity to see, touch, taste and smell some of the world's rarest spices. I will also be showcasing my new posters that were published by American Image in April.
See you in a few weeks!

The Chef Zieg

Blog
Sign up

for the Newsletter
Categories