Let's Work Together
Chef Zieg is based out of Denver, Colorado, but works with restaurant chefs, recipe developers, retailers, conference organizers, culinary schools, and gourmands all over the country. If you are interested in purchasing the highest-quality flavor combinations or learning about them, get in touch with Chef Zieg.
Virtual Flavor Consulting
You need recipes that will save you time, money and hassle and that will delight your customers. Let's meet via phone or Skype to discuss your specific flavor concerns, questions and ideas. This is an ideal package for entrepreneurs and new chefs.
Home Cook Spice Experiences
Invite me into your home where we can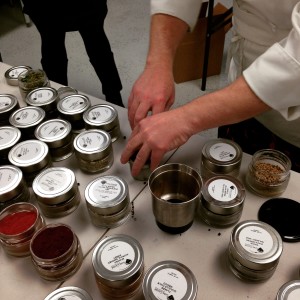 take inventory of your spice cabinet and set you up with the correct product to suit your cooking habits and aspirations. We'll get our hands dirty, so you can see first-hand how you SHOULD be working with spices. This makes an excellent wedding or housewarming gift.
Recipe /Product Development for Professionals
I am the Chef Behind the Chefs. Allow me to innovate with you or your team of culinary pros to create consistent and easy to re-create dishes. In the end, only you will have the recipe and process, which allows you to protect your intellectual property.
Restaurant Consulting
I will help your team discover the proper way to spice a dish and teach all of your staff the spice background of every menu item. This package works well as a team building program as well as a training program for new or fatigued staffs.
Menu Editing/Writing
Look your best. Increase sales of high-profit menu items. Work with me to create or improve your restaurant menu.
Teaching/Speaking
If you are a conference organizer, event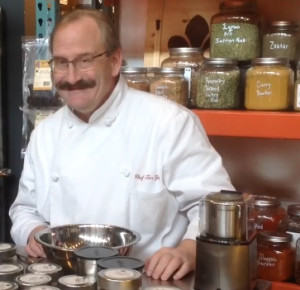 planner or culinary school representative looking for entertaining talks on spice and flavor development, look no further. I offer hands-on, interactive seminars and talks that touch all of the senses. Click here to book Chef Zieg to speak at your next event.
Retail Partner
Both online and brick and mortar retailers sell the SPICES series of prints published by American Kitchen. Apply to become a retail partner.
In-House Spice Demonstrations
Hire me to create on-the-spot spice blends for your customers or guests. This is an ideal package for retailers, hoteliers, resorts, state or regional fairs and other culinary event organizers looking for unique entertainment. Great for team building events too!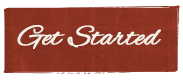 Sign up

for the Newsletter
What They're Saying...