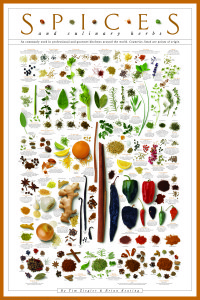 The SPICES Print Series by Tim Ziegler and Brian Keating

As Commonly Used in Professional and Gourmet Kitchens 
Created by Tim Ziegler and Brian Keating, the American Kitchen SPICES Print Series published by American Image features seven vivid prints that bring the spices of the world's most beloved cuisines to life. A unique gift for everyone from home cooks to top chefs, each print is a beautiful art piece as well as an inspiring reference tool offering spice descriptions, local flavor profiles, recipe applications and more!
The Original SPICES Print – A colorful depiction of 189 spices, herbs, capsicums and seeds used in popular cuisines.
American Grill – Showcases the bold flavors and quintessential big tastes of steak houses, BBQ joints and chop seasonings found in restaurant kitchens across the U.S.
Continental (European) – Explores the building blocks of Europe's most outstanding dishes, with spices imported from Asia and herbs developed by the Monks of the Catholic Church during the Middle Ages.
India and China – Features herbs and spices brought west by Marco Polo; the fundamentals of today's flavorful Indian and Chinese cuisines.
Mediterranean – Highlights spices that originated at the crossroads of the ancient world, an irresistible blending of tastes from Greece, Egypt, Spain and Turkey.
Southeast Asia – Showcases the diverse flavor profiles and vibrant tangs of authentic Thai, Vietnamese and Malaysian cuisines.
SALT, The Edible Rock – Outlines the origins and uses of the world's finest salts, a culinary trend taking America by storm.
Note: All prints, except for the original SPICES print, measures 12 "x 36". The original SPICES measures 24" x 36".
If you are a retailer interested in selling the prints in the SPICES series, get in touch to learn more.
What They're Saying …
"SPICES is the quintessential reference guide for young culinarians, seasoned chefs and the food lovers of the world." – Chef Jason Morse, CEC, of 5280 Culinary
"A useful teaching tool and helpful for my own cooking as well. Referring to them as I am cooking helps me to create new or different combinations. My highest recommendation." – Chef Howard Rabinowitz
"Not only [are the SPICES prints] beautiful and stylish; they keep me mindful of the simple beauty and interconnectedness that is the world of taste." – Chef Mick (Michaelangelo) Rosacci, Tony's Market in Denver
"The new line of prints is BEAUTIFUL…collectible and worthy of framing." – Lori Frazee, Pit Master/Chef at Barn Goddess BBQ
Sign up

for the Newsletter