Become a Retailer of the SPICES Print Series
Timberhawk LLC, the company behind Chef Zieg and the SPICES Print Series, is seeking online and brick and mortar retailers to sell the seven prints in the American Kitchen SPICES Series (published by American Image in 2012 and 2015). We offer a generous markup for your benefit and are busy promoting the prints online and offline, which means more sales for you.
Our retail partners receive:
A link on ChefZieg.com
A blog profile of your organization on the Chef Zieg blog
Three social media mentions in the first three months of our relationship
In-store spice classes led by Chef Zieg himself (if applicable; some fees apply)
Two-day shipping on all orders whenever possible
If you are a buyer for a book store, culinary school, spice or gourmet/artisan food retailer, gift shop, or restaurant supply store, the SPICES prints will be a value add to your inventory.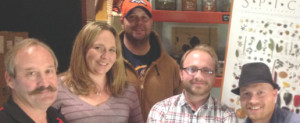 In fact, we guarantee turnover. If your first order is not completely sold in 12 months, we'll buy the remaining undamaged prints back from you.
Download the brochure here or contact Chef Zieg if you are ready to apply.
Sign up

for the Newsletter