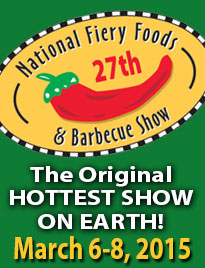 See Chef Zieg Speak at the Fiery Foods Show March 7 and 8

The 27th National Fiery Foods & Barbecue Show in Albuquerque is coming up quick. I'll be there doing a spices demonstration on Saturday the 7th and Sunday the 8th at 1:30pm in the Eagle A & B section. The talk is open to all attendees.
Will you be one of them?
My spices demonstration will look closely at unusual spices and exotic powdered ingredients that offset and complement chilies and other hot spices commonly found in cuisine of the American West (to match the theme of this year's event). There will be hands-on sampling and tasting of spices and herbs.
The Fiery Foods Show will take place at the Sandia Resort and Casino Events Center with over 50 exhibitors and dozens of speakers and cooking demonstrations. Tickets are still available on the Fiery Foods & Barbecue Show website. Go get yours so I can see you in March!
The Chef Zieg

Blog
Sign up

for the Newsletter
Categories