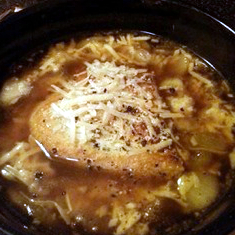 Slow Cooker French Onion Soup

Today I've got another recipe from my good friend Paula. Here she brings us a warm, comforting  dinner with French onion soup…from the slow cooker no less!
Slow Cooker French Onion Soup
Ingredients
4 medium, sweet onions. thinly sliced
3 cloves Garlic, minced
4 T butter
2 T balsamic vinegar
2 T brown sugar
3 T flour
8 oz of beer
64 oz low sodium beef stock
2 T fresh Thyme
1/2 t Black Pepper
1/2 t Salt
French bread
Gruyere cheese, sliced
Dried Rosemary
Instructions
Set your crock pot on high, then add onions, garlic, brown sugar, butter, salt, and balsamic vinegar and mix until combined.
Cover and let cook for 60 min. Stir occasionally until onions are a bit caramelized and brown on the edges.
Add in flour, stir thoroughly, and let sit 5 minutes. Add in beer, beef stock, thyme, and pepper, then turn heat down to low.
Cover and cook for 6 to 8 hours.
Before serving, cut french bread or baguette into slices, toast, then put a generous slice of gruyere cheese on top the bread.
Place under the broiler for 2 to 3 minutes or until cheese is bubbly and browned.
Fill bowls with soup, float cheesy bread slice on top, sprinkle with a little rosemary and top with some fresh cracked black pepper, if you like.
Notes
Alternative quick, stove top version: Brown the first set of ingredients: onion, garlic, brown sugar, butter, salt, and vinegar on medium to medium/low until onions carmelized. About 20 minutes, then add the flour and stir for a about 5 min, then add beer and the rest of the ingredients. Let it sit and simmer on very low for about an hour. Then complete the bread and cheese instructions described above.
http://www.chefzieg.com/slow-cooker-french-onion-soup/
The Chef Zieg

Blog
Sign up

for the Newsletter
Categories